Linear Pneumatic Piston Actuators
The pneumatic piston actuators were specially developed to drive of valves whose actuator performs a linear movement. They are suitable for modulating as well as for on/off functions.
They are suitable for plants in power plant technology, industrial technology chemical industry as well as in plants of the food industry.
Advantages
Compact design
Provide high actuating forces with short actuating time
Provide "fail safe" functions
Large strokes can be realized
Safety functions can be integrated in the controll system.
Options
Manual override with top mounted hand wheel
Manual override with handwheel gear box
Manual override via hydraulic cylinder with hand pump
Fail safe position via springs
Special surface coating
Made from special materials
Various control functions
Flange connections for quick ventilation.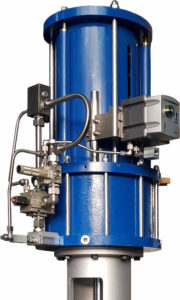 We produce actuators for the
energy, chemical and
food industries
Manufactured Linear Actuators